Inside sales is proving to be a game-changer for many companies, according to Spotio.com. Nearly 37 percent of companies use Inside sales as their primary sales strategy. Automation tools help these businesses conduct inside sales because AI-powered CRM systems can handle customer inquiries and lead generation.
Inside sales is not just an opportunity for companies with offices in another country or state. It also benefits businesses that want to grow without investing in new office space or hiring new staff members. Inside sales are an opportunity for all firms, no matter their size or location.
Find out how your company can take advantage of Inside sales.
The definition of inside sales
B2B inside sales is a process by which a company sells its products and services to other companies over the phone or through video conferencing. The firm needs to know its clients' business objectives before making any offers.
Salespersons usually have a database of contacts with an established relationship. They also know about the customer's industry and product offerings. The seller will then reach out to the connections and offer them their product or service.
Also, B2B inside sales is a form of lead generation that focuses on the needs of businesses. The goal is to generate a qualified lead by selling to companies through phone calls and emails inside an office or home. Inside sales reps also use virtual meetings, videos, and CRM tools to engage prospects.
Inside sales vs. Outside sales
Inside sales is a sales process where your salesperson works from an office and contacts potential customers by phone, email, or video conferencing. Your company's employees or a third-party business can conduct inside sales.
Outside sales are those that salespeople do in person. These include visits to clients, in-person presentations, and demonstrations of products and services.
The main difference between outside and inside sales is that outside sales involve face-to-face meetings with prospects, whereas inside sales lack in-person contact.
Let's now jump into what an inside sales rep does.
Inside sales representative's duties
How to create an inside sales team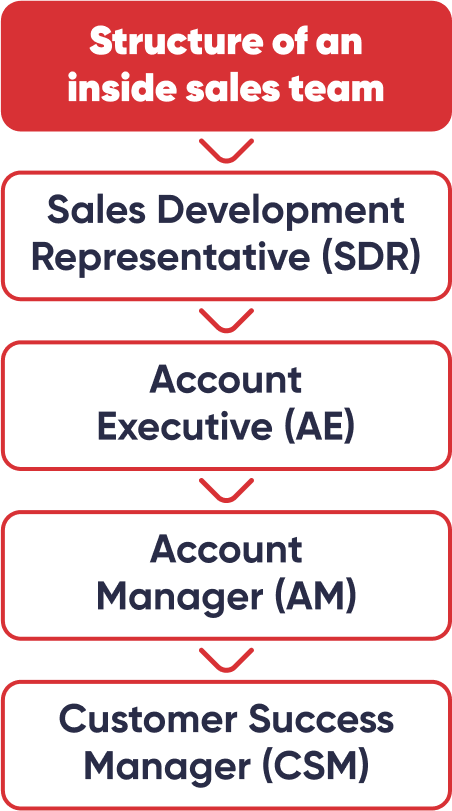 Here is the structure of an inside sales team.
Sales Development Representative (SDR): They're involved in lead qualification.
Account Executive (AE): The AE is responsible for closing sales.
Account Manager (AM): They concentrate on nurturing customer relationships.
Customer Success Manager (CSM): The CSM ensures customers get all the support they need.
Should you use a third-party service provider for inside sales? Read on.
Benefits & challenges of inside sales outsourcing
Benefit: Least-expensive
Inhouse salespeople are costly to hire because your business covers many expenses. But when you outsource inside sales, you can save on these overheads. It's a huge advantage for small businesses or new start-ups that want to keep as much cash as possible.
Challenge: Lack of oversight
Outsourcing leads to losing control of the sales process and customer relationships. As a result, you can't closely monitor performance. But you can lessen this challenge by insisting on specific deliverables over a period, e.g., monthly.
Benefit: Dealing with experts and well-defined systems
A third-party business has well-developed processes, infrastructure, and marketing specialists to help you scale up in no time. However, creating these systems is challenging, pretty expensive, and time-consuming. You would do well to take advantage of already existing sales methodologies.
Related: "9 Sales methodologies: How to win buyers and influence sales."
Challenge: Loss of critical information
One risk of inside sales outsourcing some businesses fear is losing confidential details about prospects. The third-party company generates vital info about leads through its CRM system. But you can miss this sales data if there's no written agreement to access it.
Benefit: Creates more time.
Managing an in-house team requires plenty of time and resources. You can free up time and space by outsourcing selling activities. Instead of admin and routine tasks, you can concentrate on strategic decisions.
Challenge: Hidden costs
Some outsourced inside sales firms can sweet-talk you into signing lengthy contracts with hidden costs. Because of this, you could end up paying more than your budgeted funds. Pay attention to the finer details of the agreement to avoid this problem.
Benefit: No need for inside sales training
Outsourcing inside sales takes away the responsibility of training your team. You don't have to worry about evaluating salespeople to design coaching programs.
Challenge: Lack of personal collaboration
Another weakness of a third-party marketing company is the lack of unique collaboration between teams. It could become challenging to align goals and activities. However, reps can easily engage and work together in an in-house sales organization. You can use collaborative tools like Slack to keep the communication lines open between your company and the outsourced business.
Verdict
Outsourcing inside sales has brilliant advantages that can help you scale up quickly. But you can stick to an in-house model if your business has vital financial, human, and physical resources. Also, it depends on whether you want to maintain control of the entire sales process or not.
Want to up your game in inside sales? Check out the following actionable tips.
9 Inside sales strategies
1. Understand the customer's needs
Your proposed solution should match the buyer's needs to avoid a disconnect between your product and their pain points. You can find out about the customer's challenges through research. It uncovers potential gaps and preferences that offer you opportunities.
You can differentiate yourself from your competitors by responding to what buyers want due to the information y0u collected. And customers can relate to details about your solution because it speaks their language. But avoid overwhelming clients with too much info. "Volume doesn't necessarily equal value"-Richardson Sales Performance.
2. Provide a context for your sales pitch
Potential customers can quickly disengage while the seller chats with them on the phone if the sales pitch lacks context. Grab the buyer's attention and keep them glued by offering a powerful value statement. It must specifically touch on what's crucial for the customer, how your product can help, and what success looks like.
Also, the value statement should be concise since customers are busy and the salesperson needs to make many calls.
3. Ask questions to learn
Sometimes salespeople think they know what the customer's industry wants. As a result, they offer solutions that have nothing to do with clients' challenges. Instead, inside sales reps should ask open-ended questions to learn more about the buyer's needs.
But questions need to be meaningful to make sense to the customer. You can achieve this by listening intently to the responses and asking follow-up questions. Before proceeding to the next question, always acknowledge what the prospect said.
4. Phrase questions properly
Psychology has a concept called 'the framing effect.' It means that you can make two different options regarding something depending on how someone presents it to you. The Journal of General Internal Medicine's study tested this principle by offering some patients specific medication with benefits relative to another treatment. It presented the same treatment with its pros to another group but without comparison to another alternative.
The research discovered that the first group with two choices experienced greater freedom and motivation in deciding the better medication. Salespeople can use the framing effect by providing the potential customer with the product's benefits relative to another solution. Let the prospect see the pros of two packages or solutions.
Example: Price/Product comparison.
Use open-ended questions to ask for feedback from the customer after explaining two alternatives. That's because you need to know their insights to help you guide them in choosing the better option.
5. Develop and nurture trust
Ensure that you keep your word by delivering what you promised during the call. For example, you could have assured the customer that you'd send them a digital catalog, a sample, an email explaining more about the product, pricing, etc. Follow-up by sending the promised items on time to build credibility.
Also, record and share the call with other relevant stakeholders to give the customer as much support as possible.
6. Deal with objections
Objections are likely to occur during the conversation due to cognitive dissonance. It refers to our habit of rejecting or dismissing new info because it's new or disagrees with our beliefs. We may even oppose it. Cognitive dissonance leads to emotional discomfort and customers' objections.
Salespeople also suffer from the same problem when they defend their opinions to deal with their emotional discomfort. As a result, the situation becomes tense and worse.
Sales managers should train inside sales reps to become less defensive and resolve objections. One straightforward way is to assure the buyer that you've heard their concerns and complaints. Empathize instead of defending your viewpoints. The prospect will feel respected even if you don't resolve the challenge.
7. Pay attention to anchoring
Anchoring is when assumptions influence salespeople's views- by the way, they occur naturally. For example, sellers may have particular beliefs about the prospect, which may be incorrect. The Entrepreneur magazine lists several false assumptions that salespeople make. One of them is that customers are a 'blank canvas'-they know nothing. As a result, "poor alignment equals poor buying experience."
The online publication says, "learn what they [customers] think they want" to avoid providing the wrong solution to them. Again, open-ended questions can help sales reps reveal their assumptions about the prospect.
8. Practice active listening
Remote selling requires inside sales teams to practice active listening. Listen for the buyer's intonation, word choice, and inflection. Note their responses, too, to grasp their needs and help you offer what they want.
Related: "19 Best Sales Discovery Questions To Close More Deals."
9. Use feedback to guide the sale process
Inside sales is a two-way street and consultative – inside sales professionals should get feedback from the potential customer. After presenting your offer, ask them what they think about it, whether it solves their pain points, etc. You can use the feedback to float other ideas or solutions. Asking questions shows the client that you're collaborative and want to help them.
In closing, here are the primary points about the consultative approach in inside sales.
To succeed in B2B inside sales, you need excellent communication and interpersonal skills. And you need to think creatively about how your product or service can solve your customer's problems.
How to make inside sales thrive in your organization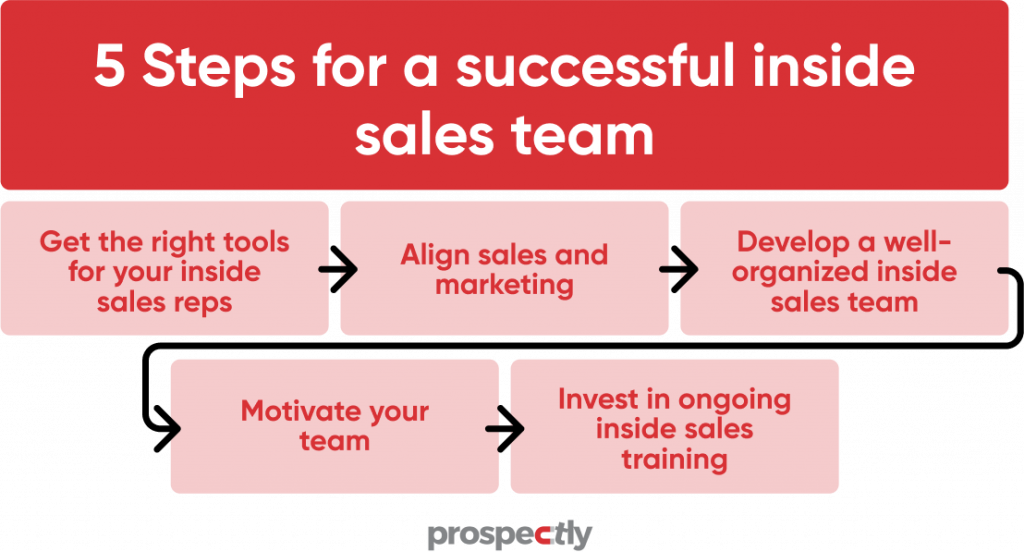 Here are five steps to creating a successful inside sales team for your business.
1. Get the right tools for your inside sales reps
Lead generation software is a must-have for your salesforce to succeed in their efforts. Consider obtaining CRM databases, social media analytics tools, and web conferencing platforms.
2. Align sales and marketing
These two departments need to work together. It prevents salespeople from getting the wrong leads and the marketers from complaining about wasted opportunities. Inside sales sellers should inform the marketing personnel about their exact needs. And the staff in the marketing department need to involve reps in their campaigns. Let there be constant communication to avoid conflicts.
3. Develop a well-organized inside sales team
Each salesperson should be clear on their responsibilities to know what you expect of them. One way is to assign roles based on market segmentation, territory, product/service, the customer journey's stages, etc. Use data to create a structure that's perfect for your business.
4. Motivate your team
Your B2B inside sales team needs regular motivation because low sales, challenging prospects, stiff competition, etc., may discourage them. Motivation can be simple recognition, verbal praise, cash incentives, etc.
5. Invest in ongoing inside sales training
Inside sales training should focus on the art of persuasion to sell products or services to companies with a lot of success. Also, coach your salesforce on using sales enablement technologies, sales pitches, and handling objections.
Related: "How to win buyers and influence revenue with your sales pitch."
Wrapping up
Remote sales is an excellent way for companies to increase their sales. It's a cost-effective and time-efficient way for companies to have their sales teams work from anywhere in the world.
Some of the benefits of inside sales are:
-It provides flexibility for employees.
– It saves the money spent on in-person sales visits.
-It helps with increasing productivity.
Watch the following video that summarizes the key points about inside sales and its future.