According to some studies, closing deals is one of the challenges that sales reps face. Lack of practical strategies for closing a sale is one reason for a low win rate. However, a well-defined sales process can empower your sales team with clear steps from prospecting to closing deals. Read on to discover how to build your sales process from scratch to help your reps hit their quota.
What is a sales process?
A sales process is a chain of repeatable steps your sales reps take to obtain leads and turn prospects into customers. It provides your sales team with a clear framework to guide your customers from the awareness stage to closing more deals.
Jason Jordan is a partner of Vantage Point Performance & co-author of Cracking the Sales Management Code (McGraw-Hill, 2012). His company's research showed that businesses that created a formal sales process had an 18% jump in revenue.
He insists that sales managers must have a formal sales process based on the study.
It must have:
In this guide, you'll see how you can be part of the best companies with skyrocketing revenue due to a sales process. Check out the incredible stats below.
Your business can reap massive benefits by creating sales stages to have an effective sales process.
Improve reps' skills of qualifying leads
You know the saying, time is money. As a result, you would want your sales team to zero in on prospects that matter to boost your chances of success.
A well-defined sale process will do just that. It helps your sales reps to fine-tune their skills for qualifying leads. They can comb through the hundreds of leads to select profitable ones. Qualifying leads also saves the sales team's time, effort, and bottom line as it weeds out unwanted deals.
Salespeople can also determine if the prospect matches their buyer persona, territory, and industry.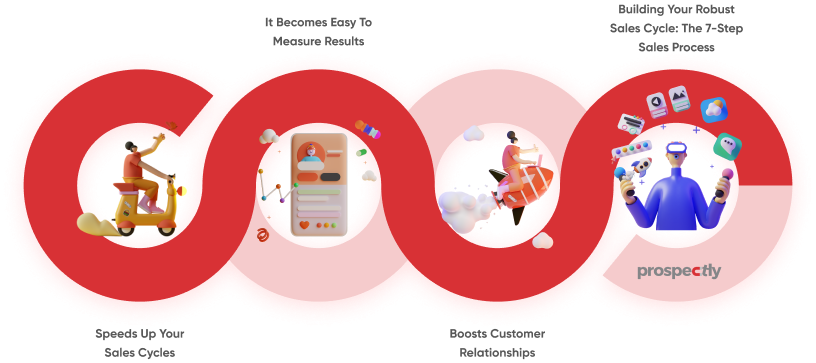 Speeds up your sales cycles
What makes ants achieve so much, and yet they are tiny? It's a unified purpose.
When you create your sales process with input from your sales team, everyone will be on the same page. Each person will know the company's steps to move leads down the sales funnel. Because of this, closing deals becomes faster.
It becomes easy to measure results
A data-driven sales process is the way to go in sales prospecting. You can use metrics to adjust your approach. Also, the data can be helpful for coaching individuals on performance.
Say, for example, the closing ratio for each sales professional is low. You can train the sales team on strategies for closing sales.
Boosts customer relationships
Through a robust sales process, sales reps can address customers' concerns. They'll give their clients maximum attention and support throughout the sales cycle. Customer relationships will improve, resulting in brand loyalty and booming sales.
Building your robust sales cycle: The 7-step sales process
Let's continue on the journey of creating a failure-proof sales process. Here's the sequence of the sale process.
Before everything else….
Do the following to lay a strong foundation and have buy-in from your reps.
Part A: Discuss with your sales reps to find out about their current sales steps
It's tempting for sales managers to build a sales process without roping their sales reps in. That's something you need to avoid.
Sales leaders need to understand what their sales reps are doing to convert leads into customers. The idea here is to align the sales process with the current activities of each sales rep.
To achieve this, talk one-on-one to understand how each sales team member moves a customer through the funnel. The questions below can set the ball rolling.
How did the sales rep get a lead?
How did they assign the lead?
How did the sales rep initiate the first communication with the lead? Was it through the phone or email?
How many times did the sales rep try to contact the lead?
Did the rep use a cadence or a schedule in their prospecting activities?
What questions did the rep ask the lead after the contact?
How did the sales rep keep a record of the answers?
Are there any documents or files that the reps sent to the lead?
When did the sales rep send the resources to the lead?
How did the rep show the lead your company's solution? Did they call, use a Zoom meeting, or present a demo?
What preps did the sales rep do for the presentation?
How and when did the sales rep deliver your business proposal?
What challenges did the rep face during the negotiations?
If the rep lost the lead, what could be the reasons?
You may not have the answers to all these questions if you're starting with new sales reps. No worries, you can follow the seven-step sales process you'll see in a moment.
Part B: Understand the phases in your customer's decision-making process
Another critical element in the preliminary stages of your sales process is reviewing your customers' journey.
Here's the thing.
One way of developing a standardized sales process is to consider the customer's journey. Let's review the sales funnel and the sales pipeline stages.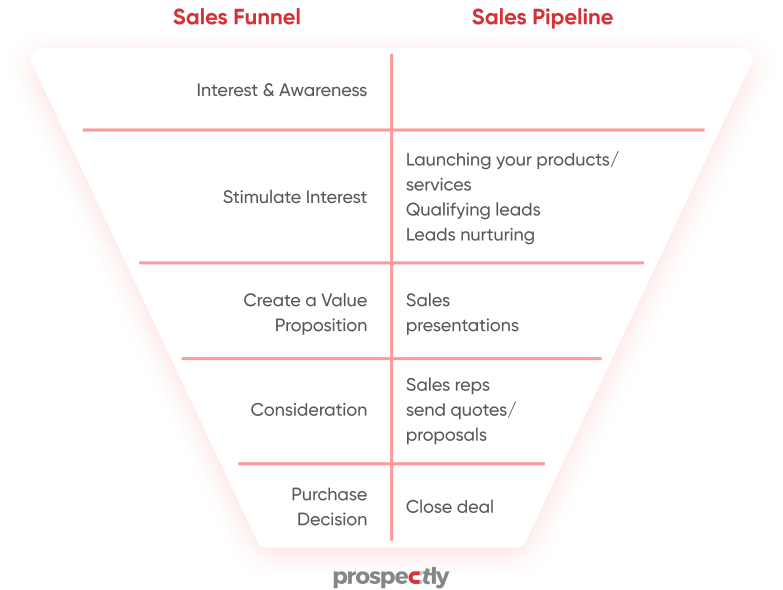 After reviewing the sales funnel, the other crucial step is considering the sales stages in your sales process. You should create a list of sales activities together with your sales team/reps at each stage.
Let's see what your stages may look like.
Part C: Create your 7-step sales process with specific tasks
1. Dive into prospecting
At the top of your sales funnel, there's lead generation through prospecting. Your goal is to identify potential customers. These are people who've shown interest in your product or service. Or, because of your buyer persona, they may fit your profile.
Here are some essential sales activities for this stage:
Contact your current customers to find out what they need. Dig deeper into their challenges and figure out how your company can solve their pain points.
Encourage your buyers to refer their friends or others to your product or service. Also, make a list of new customer referrals.
Take advantage of industry events, trade shows, or networking events. Collect business cards and feed your CRM.
Source leads from your website assets (blogs, forms, downloads).
Use social media sites, like LinkedIn, to search for executives in your target industry.
Collect email addresses and contact details from a company's website. Or use a reputable email finder to collect emails from decision-makers.
You can now create a customer persona to include in your sales process with all this relevant info. It'll help you avoid chasing after leads that won't serve your goals.
Your customer profile should consider the age, location, income, turnover, challenges, and purchase habits of the prospect.
See an example below.
Here's a second example.
Remember that your sales prospects are individuals with goals and dreams. Some want to thrive in their jobs or make their companies profitable. As a result, creating relationships between your prospects and your business is vital.
Your conversion rate of prospects to buyers can increase if you also focus on strengthening relationships. Show your potential customers that you want to help them.
Sales reps need to go beyond the sales funnel and be as personal as possible. It'll help create trust in your brand and boost the chances of a demo presentation.
2. Qualify your sales leads
Now, your sales rep has a list of prospects. At this stage, they should find out if each sales prospect is worth pursuing. Is the potential customer likely to buy your product or service?
Reps can do this by sending an email or making a phone call. Or they may follow the BANT system to qualify leads. BANT stands for budget, authority, need, and timeline.
To break down the framework, consider these questions.
Does the lead want the product or service you're offering?
Do they have the money and decision-making power to purchase the product?
Will they buy your product or service soon?
Alternatively, the sales rep can ask the lead the questions below.
What's your position in your organization?
What daily activities do you do at your job?
What problems are you trying to fix?
Why does your business see this as your top priority?
What other ways are you evaluating to solve your problem?
The biggest takeaways are that you need to identify the right target market and the right people in a company. They must have the pain points your product/service is trying to solve.
3. Dig deeper into the company through research
For this step, you want to understand the company better to help you align your products/service with its challenges. Your goal is to see how you can solve the prospect's pain better than your rivals.
Find out more details about the company's objectives to help you create personalized messages. Get as much info as possible about the prospect's needs and concerns. The details you'll gather will become handy in the following stage.
4. Make a killer presentation
You now have a clear idea of your prospects, pain points, and challenges. It's time to make a convincing and personalized presentation. You should show the prospect
how your company can help them improve their lives.
Also, see the tasks your sales rep can do during this stage.
Set up a meeting for the presentation
If necessary, you might carry out more research on the stakeholders.
Also, consider inviting a product/service expert to your meeting to show how your solution is the right one for the prospect.
The specialist can also deal with the technical part of your product/service.
Create market materials that suit the company's needs.
Your presentation could also respond to a request for proposal (RFP) or a product demo. Whatever the case, use a benefit-packed sales pitch as your greatest weapon.
Here's an example of a sales pitch from Automate WordPress Development & Hosting.
5. Address objections & concerns
Objections to your product or service demo can happen. Your prospect may have the sales objections below, according to David Finkel, Author, 'The Freedom Formula: How to Succeed in Business Without Sacrificing Your Family, Health, or Life."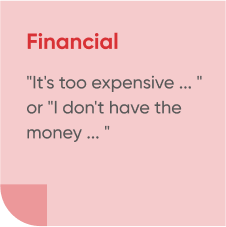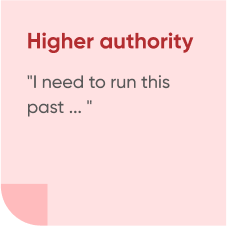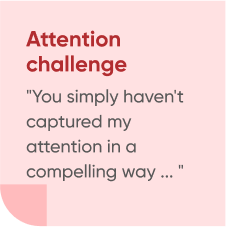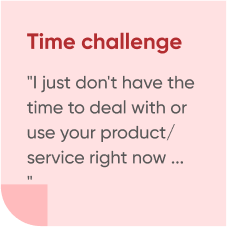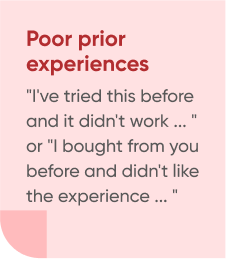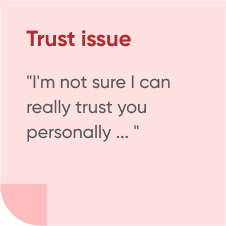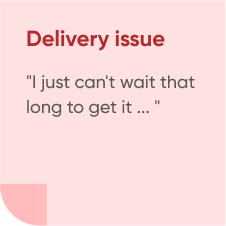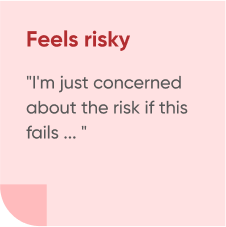 Look at each objection and try to find ways of overcoming it. David suggests that if the prospect isn't committing because of time, you can:
Tie your offer with an expiration date. Show the prospect the product is valid up to a specific date.
Give the potential customer a once-off price break to encourage them to buy.
Demonstrate to them the pain it would cause if they postponed their purchase.
Ask the prospect to take the offer, and repeat the sale to help them overcome the objection.
Matthew Poland also suggests using your clients' success stories to handle objections.
You can use a competitor matrix if an objection relates to your competitors. You put your company side by side with your rivals and show your strengths and weaknesses.
Here's an example of an SEO company comparing its price with other competitors.
Create your competitor matrix using the template below. Do this before you prospect. Kit Needham of Carnegie Mellon University recommends the features below for your competitor analysis.
Competition Matrix Template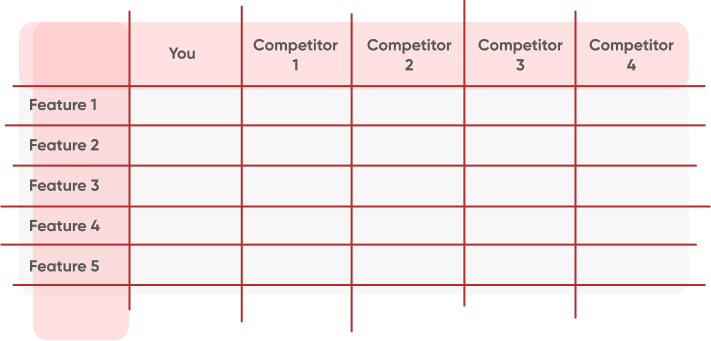 It's better to deal with one competitor when you're presenting to your potential client. You should show that your company is better based on your strong points.
Now let's look at how you can close deals.
6. Closing deals
After removing the roadblocks, you move on to closing deals. You also respond to your customers' concerns that arose in your demo.
It's the last stage where you want your prospect to become a customer by signing an agreement.
You may also send a proposal or a quote, negotiate the terms, or get the company's buy-in from the decision-makers.
Below are examples of sales activities in this stage.
Negotiation of terms
Proposal delivery
The signing of sales agreements
There are several techniques you can use to close deals.
1. Close with a time limit
The technique is suitable when your prospect isn't yet fully decided. You want to encourage your potential customers to choose an installation or delivery date without delay.
You might say:
"The 50% discount on the Prospecting Tool is valid until Friday next week."
or
"The free membership sign-up for the gym is open to new numbers until Tuesday. Why don't you become a member and take advantage of the free offer?"
2. Close with a basic package
Sometimes a prospect is hesitant to commit to your proposal. In this case, use the basic package close that may involve a different product version.
Make your customer understand that the substitute can still meet their needs. But they could be better off with the first offer.
You could say:
"Perhaps we can offer you a one-month trial of the Prospecting Tool. You'll have basic features. We also have clients who enjoy the full benefits of the tool because they're premium members. What do you say about this deal?"
3. Assisted close
With this technique, you can help your qualified lead who attended your demo decide to buy.
You could say:
"It appears you're okay with our discussion about the product/service. How about sending you the agreement via email?"
or
"What else do you want from me to sign the doc and send it back to you today?"
One critical thing you need to keep in mind is that companies are different. And so, following a rigid sales process may not work, according to Mareo Mccracken, Revenue Leader of Movemedical.
Mareo insists that sales reps shouldn't get stuck in a sales process, especially when dealing with a complex B2B sales process.
Barret Riggleberger, the CEO of xPotential Selling, proposes the following closing deal strategies for a buyer who can't commit to delivery date.
4. Work backward from the end of the sales process
Tell the prospect about your delivery or installation date. Explain what your timeline looks like, your processes, and when the client can expect the delivery. "Your goal is to establish a firm date for delivery, and then, working backward, to determine when the buyer will need to sign a contract."
According to Barrett, you should encourage the customer to pick up a date and show them the right time for signing the agreement.
5. Understand and consider the customer's personality style
It's crucial to understand a customer's personality style because if your reps master it, they'll perfect their selling craft. An indecisive customer needs more personal guarantees that your solution can solve their pain points. But a decisive prospect is looking for extra facts that your product is the perfect fit.
Some customers are emotional buyers who seek a relationship with your business. They want a reliable brand that they can trust. With these types of customers, focus on building relationships.
Others are analytical customers looking for unbiased info to help them assess your solution.
6. Establish a specific date for signing the contract
Set a precise delivery date if you're dealing with a qualified prospect who wants your product/service.
Make the prospect understand that the meeting isn't for another presentation. Also, re-emphasize that all the relevant stakeholders should be present in your demo.
You might say:
"I want to deliver/install the product in three weeks. To make this possible, I'll need you to sign the form/doc by next Friday to fit you into our program. What's the best time for you-Wednesday or Thursday?
Before the appointment date, remind the prospect 24 hours in advance.
As Barret notes: "Defining a buyer's urgency to buy is critical to qualifying and closing sales. If the prospect is unsure about his or her time frame for signing a contract, simply reverse the process. Start from the end and work backward to help the prospect understand your process for delivering the right solution on time."
7. Follow-up and Nurture
Follow-up is vital to ensure that you boost your chances of closing deals. Research says that it takes five follow-ups to close 80% of sales. It means that your success hinges on the activities you do after you've presented your solution.
Here are some practical things you can do as a follow-up.
Adopt a multichannel approach
Your prospect could be hanging out on multiple social media sites, like LinkedIn, Facebook, or Twitter. As a result, you should use several channels to connect with them. Think of email, social media, phone, live chats, and one-on-one meetings.
Send valuable resources
Here, you can share anything with potential customers to bolster your proposal.
Here are some examples.
Suggest a tool, an app, or software that can improve the customer's life
Keep them updated with trends or other exciting stories in your industry.
Connect your potential client with an influencer
Automate your schedules
There are a lot of tools that you can rely on. Google calendar is best for scheduling your meetings and calls. To speed up your follow-ups and make them manageable, you can use market automation.
Find out more about other nifty marketing automation tools to help you with follow-ups.
Nurturing your new customers is also crucial in your sales process. Your customers can only continue doing business with you if they're excited about your brand. Nurturing keeps the momentum. It's like oxygen.
You can also take advantage of upselling to find more sales opportunities through nurturing. Happy customers can refer your business to others, resulting in many leads.
Check out the activities below you can do in this stage.
Use drip campaigns together with promotional materials to keep your leads updated
Call your leads to ask if you can present a demo or offer them a free trial
Encourage new customers to sign up for your newsletter
Ask buyers for referrals and constructive reviews
Measure Your Sales Process Results
Another essential part of your sales process is to measure the results to see how your sales reps perform against set standards. It also helps you make changes if your methods aren't working well.
See the table below to get you started.
You can add other sales pipeline stages in your sales process and use the results to:
See how your sales team is progressing
Identify areas where you need to improve
Change the sales process steps to make them more efficient
Add new sales tactics
Train and coach your reps to better their goals
Create a Structure for Your Sales Process
For your sales reps to follow the sales process and repeat it, they need a structure.
A recent study says:
As a sales leader, you can create a sales process flowchart.
Sales Process Flowchart
Your sales process flowchart shows specific stages that your sales reps need to go through in moving the lead down the sales funnel. It helps them visualize the sales process as the chart contains colors and shapes.
The sales process flowchart is perfect for training new salespeople.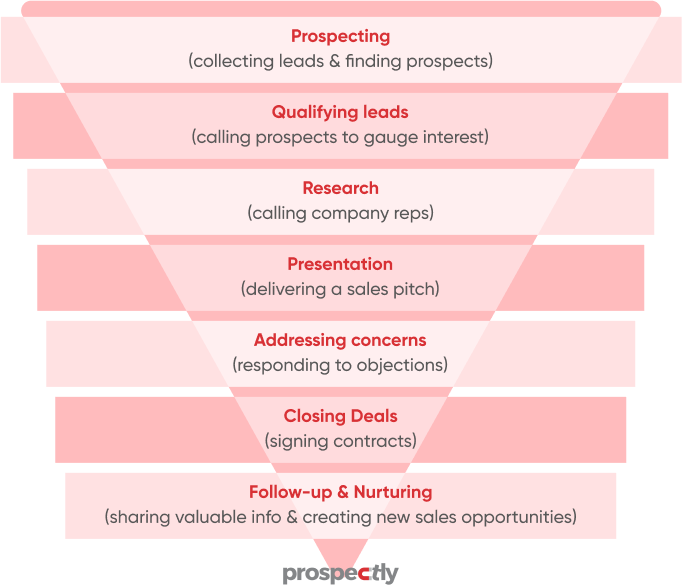 The sales process with a clear flowchart can help sales managers train and coach their sales reps to close more deals. However, Mareo says that in challenging B2B sales, avoid being rigid to the sales cycle.
Your reps should focus more on the key areas below.
Engage and talk to the relevant people
Understand the prospect's pain points and goals
Show potential customers why your solution is worth buying and its value better than your competitor's
Get buy-in
Final thoughts
A sales process is a failure-proof system with clear steps to help your reps move prospects down the sales funnel to close more deals. You should start the 7-step sales process by reviewing what your reps are doing right now to convert opportunities into buyers. Also, you need to align the sales cycle to the customer buying process to identify the crucial activities your salespeople should focus on. B2B sales are complex. As a result, be flexible and adjust the sales process to suit your industry's needs.