"Sell me this pen!" Does this question automatically transport you to the scene from The Wolf of Wall Street with Leonardo DiCaprio holding up a pen to a room full of salespeople? Well, you are not alone!
Over the years, this phrase has been used by many sales honchos to test a salesperson's mettle. So, it's only natural that a movie centered around the dynamic world of sales would highlight this age-old riddle.
But how does it assess your selling skills? And what is the best way to answer "sell me this pen"? This blog will help you address these critical queries so you can confidently tackle this brain teaser in your next sales interview.
Let's get started!
Why is it a recruiter's favorite?
Many sales leaders believe this question can help them separate the wheat from the chaff. And it's not always a pen they want you to sell. The pen is merely a metaphor. Your recruiter might pick up any object in the room and frame the same question.
But why is it essential for you to sell that pen? Keep reading.
Test sales skills
For most interviewers, this is a sure-shot method to test a candidate's critical selling skills. A sales rep that approaches this question undeterred displays a high degree of self-confidence. It also demonstrates salespeople's ability to think on their feet which is crucial in sales.
Moreover, answering this question by discovering the prospect's pain points will require a superior level of active listening, relationship building, and critical thinking skills. Hence, if you are able to come up with a tailored solution to sell the pen, it exemplifies your ability to create urgency and close the sale.
Also read: 26 non-negotiable sales skills every salesperson should have
Gauge selling styles
According to HubSpot, your response to "sell me this pen" reveals your selling style. You can take a three-pronged approach to address this question, each reflecting a particular form of selling.
Some sales reps use the feature-based method wherein they highlight what their product/service can do for the prospect. This is called the value-added technique. However, this route often lacks discovery as you will have limited knowledge of what's important to your buyer.
The next option is to leverage solution selling, one of the most popular methods. This approach suggests you ask questions that elucidate what your interviewer wants in a pen and uncover issues with their current pen. If your buyer wants precisely what you are selling, you have hit gold! But there are chances of it backfiring if there is a vast disconnect between what you offer and what addresses the buyer's needs.
HubSpot claims that the problem-creation technique might be the best method to answer this. You ask questions that make the buyer aware of problems they never knew existed. However, this is one of the most complex methods to follow as it needs extensive prospect research and sometimes years of experience mastering this technique.
Related: Master provocative selling with the Challenger sales method
Now, let's get to the main objective of this blog. The following sections will explore how to answer "sell me this pen" in an interview.
How do you sell a pen in an interview?
Getting back to the scene from The Wolf of Wallstreet, Leo did find his sales superstar who nailed that question. As illustrated below, the character Brad used the "supply and demand" angle to answer this question. It follows the "problem-creation technique" discussed above.
Although this might not always be the best response in real-life situations. Hence, the blog will now focus on some tried and tested strategies to answer "sell me this pen". I will leave it to your discretion to pick the ones that fit your selling style and generate the best results for you.
There is no right answer
Remember that recruiters are not expecting the correct answer to "sell me this pen". They want to test your sales approach. So instead of struggling to brainstorm the perfect solution, put on your problem-solving hat and lay out a strategy to tackle this question like you would in an actual sale.
Don't try to sell the pen
This might seem counterintuitive, but the first rule of selling the pen is "not to sell the pen." Why? Because generally, consumers don't like to be sold to, but they like to buy. So instead of pushing your product/service, get to know your customer, assess their needs, and discover their pain points. Here are a few sample questions you can ask.
"What do you use a pen for?"
"What exactly do you look for in a pen?"
"How often do you use a pen?"
"Are you happy with your current pen? Does it serve its purpose?"
Learn more ways to unravel your prospect's business needs in our blog: 19 Best sales discovery questions to close more deals.
Highlight your value proposition
Be mindful to use this step only after you have gone through the first two. Once you know what they are looking for, demonstrate the key attributes of your pen. Also show, how your pen is better than the one they have, or (if they don't have one) highlight how owning this pen can make their life easier.
A little confidence goes a long way
As mentioned earlier, this question can tell a recruiter a lot about your sales skills. The cut-throat sales environment requires you to have the right mindset to face objections on a regular basis. Recruiters are looking for confident sales superstars with undying resilience to crack deals consistently. And most importantly, they want salespeople who don't surrender at the slightest sign of discomfort.
When faced with situations like this, calm your racing mind, and resist the urge to blurt out the first thing that comes to your mind. Maintain composure and follow the steps mentioned above. Finally, harness your closing skills to land the deal/interview once you have discovered your buyer's needs.
Bonus tip: Check out The 9 most effective sales closing techniques.
Practice objection handling
You can not always expect the interviewer to willingly accept your response to "sell me this pen". Some of them may throw a few curve balls along your way. So it is important to hone your objection handling skills.
Make it your goal to unearth the reason behind their objection. Listen intently to their concerns, make them feel heard, and come up with a fitting solution to their concerns. Also if the deal does not seem mutually beneficial or sustainable, be prepared to walk away from the sale.
To learn more about mastering sales objections, read our blog, 22 Most daunting sales objections and how to overcome them
Now that we have gone through the strategies to answer this question, let's look at some examples.
Sample responses
It is difficult to narrow down the best answer to "sell me this pen". Nevertheless, you can draw inspiration from the samples below to come up with your own personalized version.
Here are some favorites shared by top sales pros.
Now let's look at some popular responses based on various selling styles. You can customize them to your needs and liking.
Qualifying the lead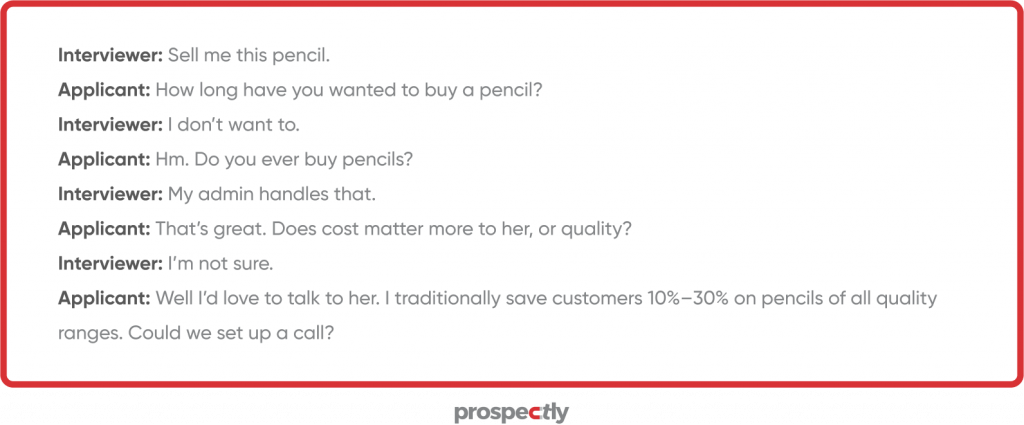 Discovery approach

Making an emotional connect
Highlighting benefits

Demonstrating value with a freebie
Handling a curveball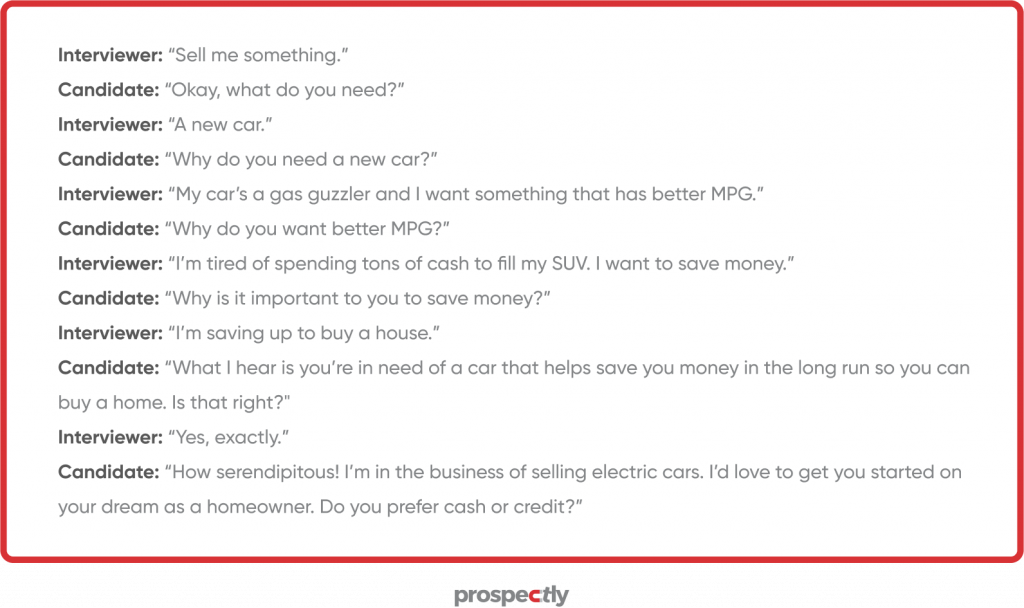 How not to sell a pen
When you come across this question or a similar version of "Can you sell me this pen?", you might feel it is not relatable to your job description. For instance, why should you demonstrate selling a pen when you are interviewing for an enterprise sales position?
First, know that not answering the question is not an option. It is a salient part of the sales interview. Additionally, as mentioned earlier in the blog, your ability to sell a pen highlights your expertise to sell anything under the sun and reflects your improvisation skills which is cardinal in sales.
Now, go ahead and sell that pen!
To sum up, do not be flustered when faced with the phrase "sell me this pen". There is no right or wrong way to decode this golden riddle. What the interviewer really wants is to know if you are confident enough to think on your feet and analyze your sales approach. Keep calm, maintain a positive attitude and try one of the many techniques illustrated in this blog.